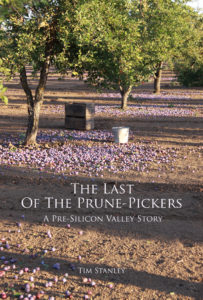 The Last of the Prune Pickers: A Pre-Silicon Valley Story  
Not long before the Santa Clara Valley of California was known for silicon, the Valley was largely covered with orchards.
There were orchards of pears, apricots, cherries, walnuts and the king of them all—prunes. Most of the orchards were part of small family farms, and there were thousands of them. This is the story of what preceded those farms, how they came into being, and how they thrived. It is also the story of one of the last of those farms, of the farmer, and of some of the young boys and girls who had the privilege of working for him.
We were among the last of the prune pickers.
Book size: 6X9″, 240 pages, 50 photographs   Free Shipping